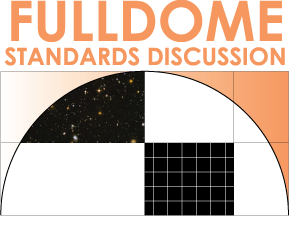 Ongoing Fulldome Community Discussions
Updated: 1 May 2008
Current Efforts
We're working on plans for the 2008 IPS Conference in Chicago, Illinois, USA. Please contact Ryan Wyatt if you're interested in assisting with preparations or have specific concerns you'd like to see addressed. The big event in Chicago actually takes place immediately after the conference…
Fulldome Summit at IPS 2008: The Future of Fulldome
3 July 2008
Chicago, Illinois, USA
The International Planetarium Society's Fulldome Video Committee, DomeFest, and the Adler Planetarium are co-sponsoring the second Fulldome Summit as a special session of IPS 2008 on Thursday, 3 July, at Adler Planetarium in Chicago, Illinois. Take a look at the official Summit webpage for more information.
Abstracts are now being accepted for two paper sessions:
1) Emerging Fulldome Technologies - Papers of a deep technical nature are solicited on emerging fulldome technologies covering topics such as automatic multi-projector alignment, digital hemispheric live- action cameras, 4k x 4k production workflow, cutting-edge real-time applications, or stereoscopic fulldome systems.
2) Future of Fulldome - Papers focusing on broad-brush future directions for fulldome theaters are solicited covering topics such as networked domes, entertainment programming, content development consortiums, large-format film, fulldome convergence, etc.
Abstracts are now due 15 May 2008 and acceptance will be announced by 31 May. Acceptance of abstracts is competitive and will be based on relevance to advancement of the medium and fulldome profession. Electronic versions of final accepted papers are due at the conference and will be subsequently published in an electronic Fulldome Summit proceedings and also considered for publication in the IPS Planetarian. Fulldome Summit paper presentations are 15 minutes with a 5 minute Q&A session, and are expected to be of specific interest to the fulldome community. Papers on fulldome topics that are of general interest to the planetarium community should be submitted for presentation at the preceding IPS 2008 conference.
Please send all abstracts as Word or text documents to Ed Lantz by the 15 May 2008 deadline.
Past Efforts
At the 2006 IPS Conference in Melbourne, Australia, the IPS Fulldome Video Committee assembled a "Fulldome 101" session to attend to the needs of planetarians transitioning to fulldome video technology. Elsewhere on this site, you can find videos and PDFs of some of the talks.
The IPS Fulldome Video Committee also held three public meetings during 2005 in an effort to increase discussion about the needs of the fulldome planetarium community. Ed Lantz and Ryan Wyatt led these discussions at DomeFest (in Albuquerque, New Mexico), the Western Alliance conference (in Denver, Colorado), and the Immersive Cinema Workshop (in Espinho, Portugal).
Our primary goal for the 2005 meetings was to create an industry standard for dome masters. Please look at a PDF of the current draft of the specification and take time to comment. We see dome masters as the "low lying fruit" of standards formation and a great way to get the ball rolling. Once we have incorporated further changes, the proposed standard for dome masters will be posted for public comment and additional revisions prior to ratification by IPS.
The first meeting was held on Sunday, 17 July, in conjunction with DomeFest in Albuquerque, New Mexico, at the LodeStar Astronomy Center. David Beining hosted a discussion that primarily drew producers of fulldome content, and much talk centered on production guidelines and budgets. Notes from the DomeFest discussion are available here. The second meeting was held on Saturday, 10 September, in conjunction with the Western Alliance conference in Denver, Colorado, hosted by the Denver Museum of Nature and Science. The discussion remained fairly technical throughout, and numerous changes were suggested to the draft document. Notes from the Western Alliance discussion are available here. The third meeting was held in conjunction with the Immersive Cinema Workshop in Espinho, Portugal, on Tuesday, 13 September.
Also, take a look at the IPS 2004 Fulldome Standards Summit Proceedings to learn more about what transpired when we met two years ago to begin discussing standards.
Links
DomeFest
Fulldome Mailing List
IPS (International Planetarium Society)
IPS 2008 Conference
IPS Fulldome Video Committee
Wikipedia Entry